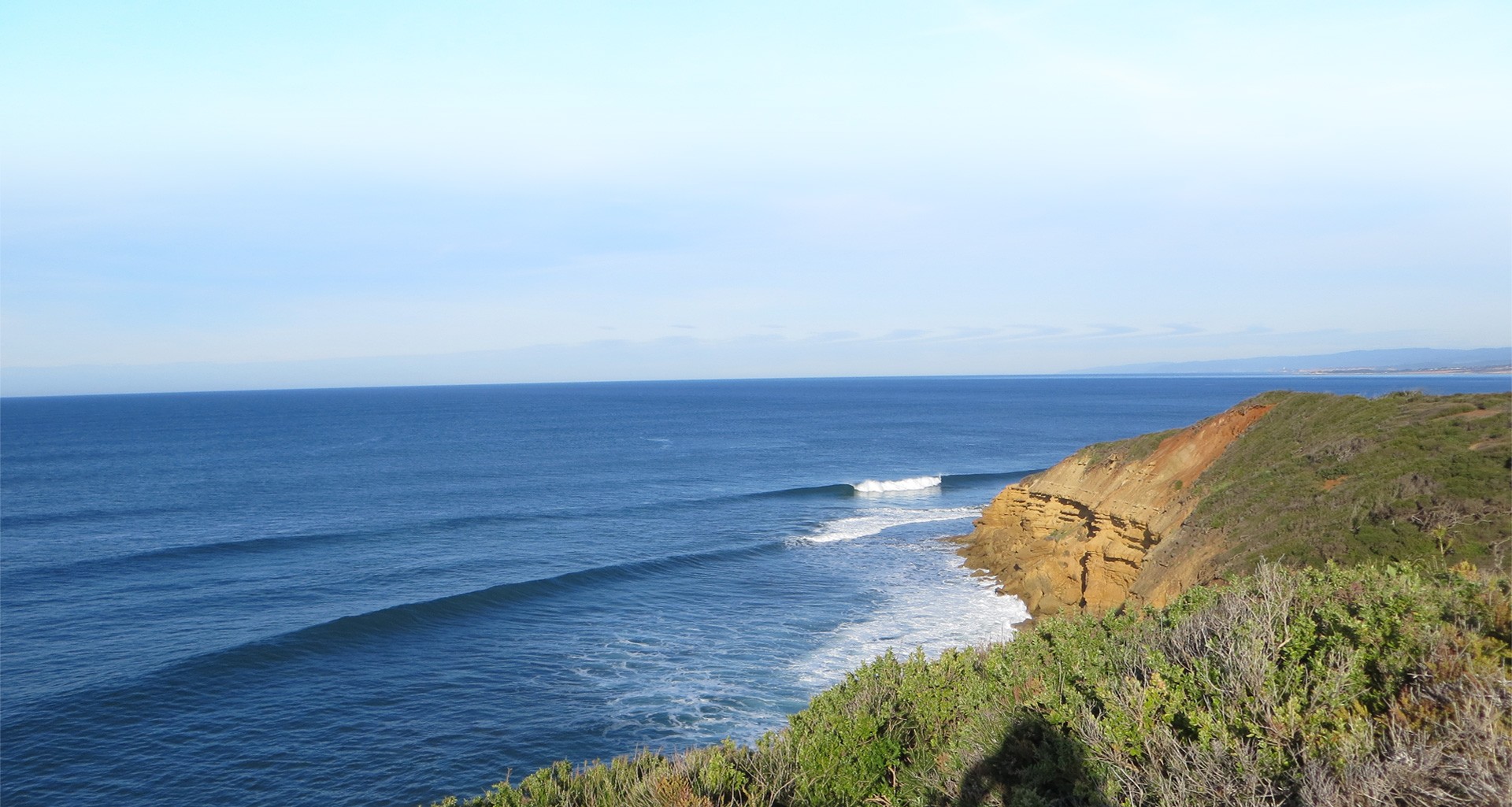 School and Group Activities
SeaEarth Adventures
was developed in 2014 from two existing companies that have been providing quality outdoor education programs to schools and other groups since 1993, and currently service over two hundred and fifty primary and secondary schools, tertiary, corporate groups and clubs. Our programs are ideal for school camps, VCE Outdoor and Environmental Studies, Advance programs and VET courses. The equipment we use is the latest and safest available and our instructors are fully qualified and experienced in their respective fields. We follow the Department of Education and Adventure Activity Standards safety guidelines and recommended ratios for outdoor adventure activities. We provide a friendly, personal and flexible service and specialise in customising programs to meet your needs.
Surfing continues to be one of our most popular activity and we now own over 125 soft 'G Boards' and over 600 wetsuits to cater for multiple groups at different venues.
Many of our other activities such as Team challenges, Rock climbing and Expeditions are also rapidly growing. Mountain biking is our latest adventure that is growing rapidly and is also a great activity for the colder months.
SURFING & BOBY BOARDING

MOUNTAIN BIKE TOURS

SIT-ON-TOP OCEAN SURF KAYAKING

SIT-ON TOP RIVER KAYAKING

OUTDOOR ROCK CLIMBING & ABSEILING

BUSH WALKING & COASTAL HIKING

EXPEDITIONS (MADE UP FROM A RANGE OF THE LISTED ACTIVITIES)

LOW ROPES & INITIATIVE COURSES

RAFT BUILDING

SURF SURVIVAL & AWARENESS PROGRAMS

SURF CARNIVALS

LIFE GUARDING

MARINE ENVIRONMENTAL ACTIVITIES - ROCK POOL RAMBLES & INTER-TIDAL ZONE STUDIES

BUSH ENVIRONMENTAL ACTIVITIES - COAST & FOREST WALKS, KOORI TRAIL PT ADDIS
Please click on activity below for details
Classes are run at Anglesea, Urquharts Bluff, Torquay, Pt Addis & Ocean Grove beaches. We are mobile and can travel to other beaches in the area on request. (subject to availability) Multi day programs and camps can be designed on request. We provide full length wetsuits and specially designed 'G-Board' soft boards in a range of sizes to cater for different ages and abilities. Our instructors will be in the water teaching along side you how to surf, not just watching them from the beach! The students will also learn about surf safety and awareness. We are constantly upgrading and expanding our equipment, we can cater for large groups and hold all the largest permits on the coast. We have over 125 Surfboards & 500 wetsuits.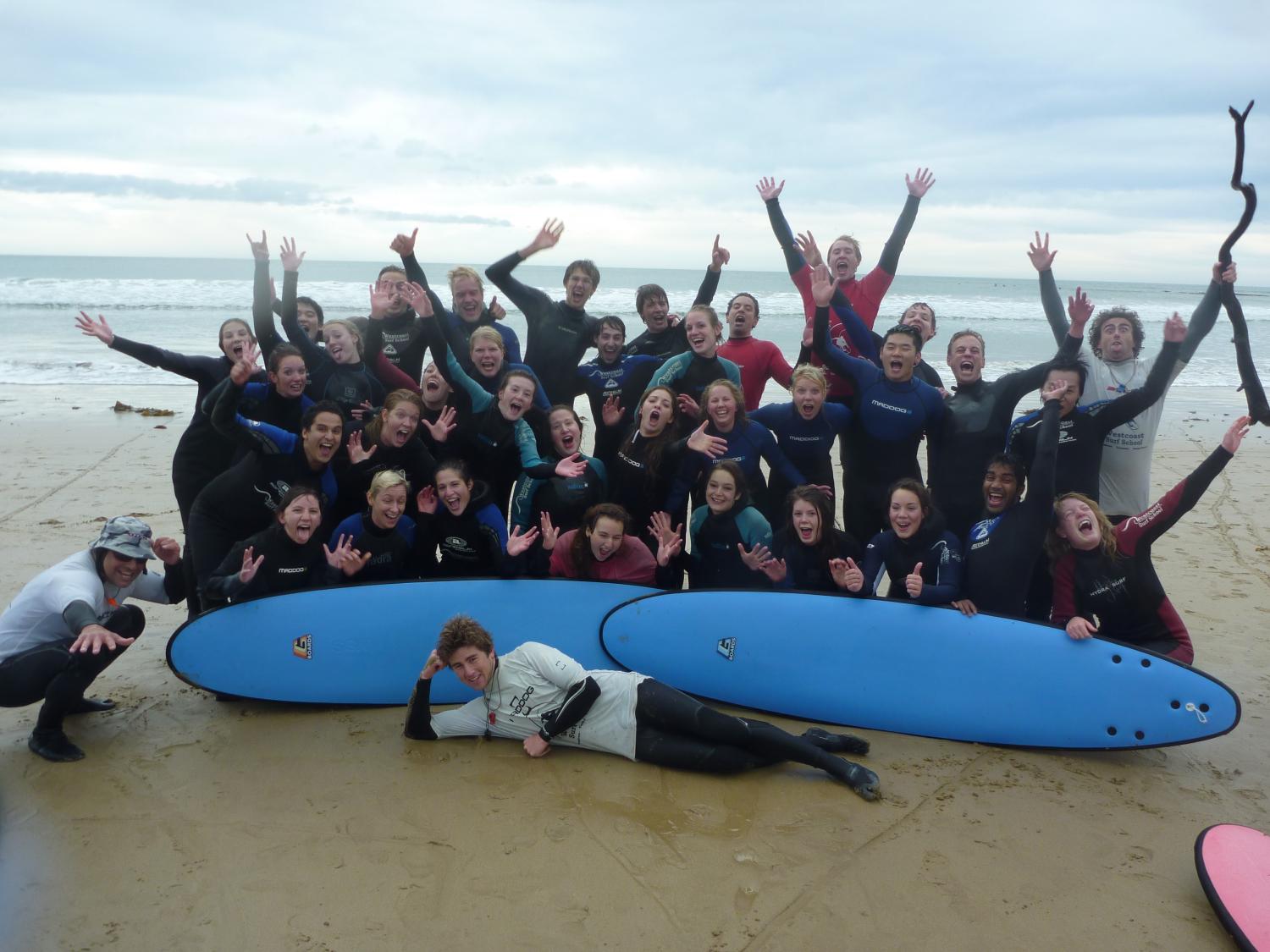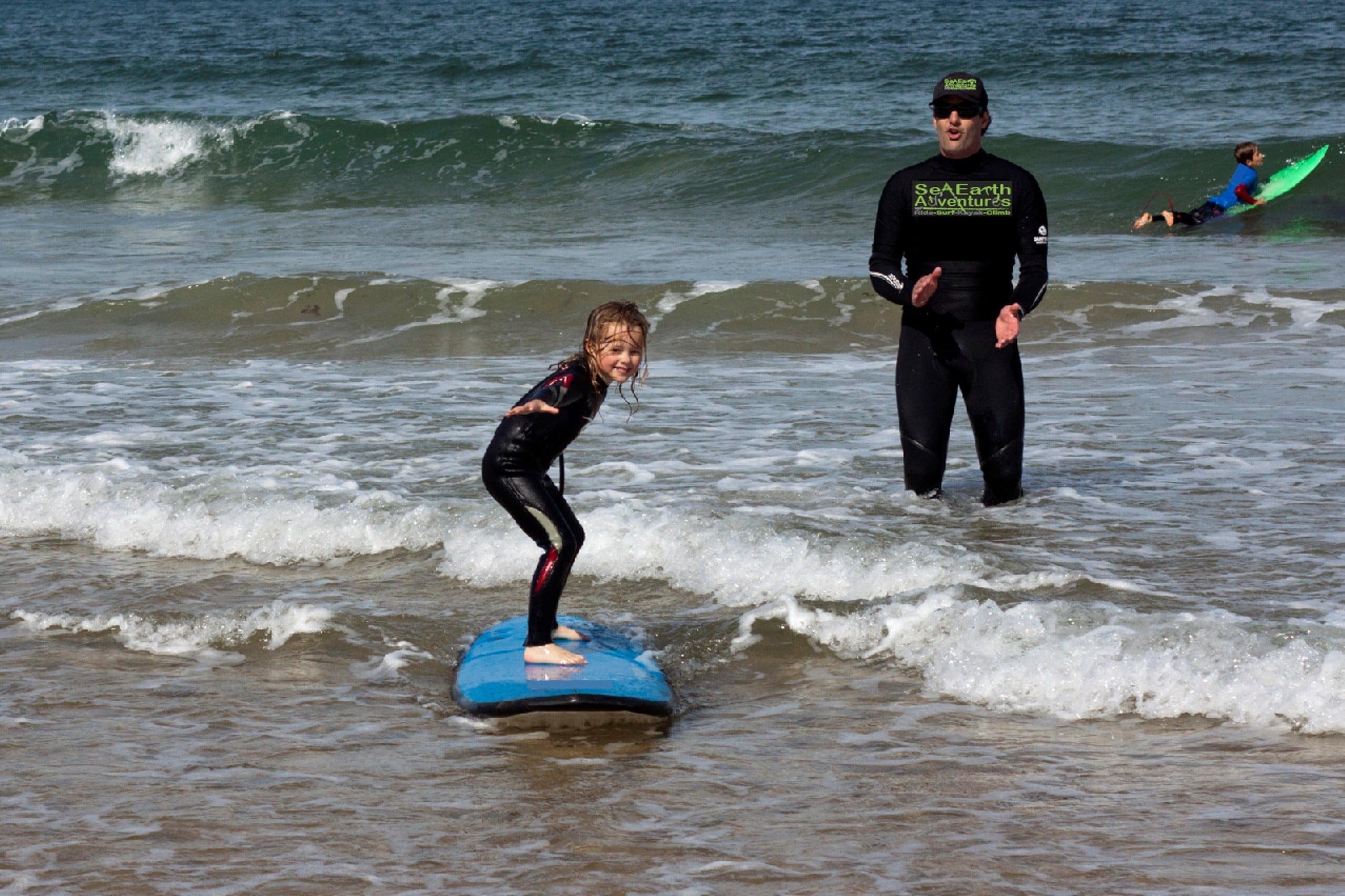 Classes are run at Anglesea, Urquharts Bluff, Torquay, Pt Addis & Ocean Grove beaches. We are mobile and can travel to other beaches in the area on request (subject to availability). A very safe and fun activity with success guaranteed for everyone. A great lead in activity for surfing, or as a stand alone surf activity for the younger or less experienced students.
Sit On Top kayaking (River or Surf)
Classes are run at Torquay including Cosy Corner & Spring Creek, Anglesea River & Pt Roadknight and Barwon River. Our kayaks are heaps of fun and easy enough for all participants to experience success in their first session. We use Malibu 2's a two person self-draining plastic kayak which are extremely safe and easy to use. Helmets, paddles, personnel flotaion devices (PFD's) and wetsuits are provided. We can cater for groups of up to 28 on the water at a time. It's truly an amazing experience to surf a wave in a double kayak and share the thrill with someone else.
Let our experienced guides take you through the coastal heath land, ironbark forests or along the magnificent Surfcoast Walk. Enjoy the spectacular coastal views while learning about the local fauna and flora as well as the local history of the area, from the Wautharong Koorie tribes to the early European settlers.
We also offer a range of amazing walks and hiking inland around beautiful Victoria.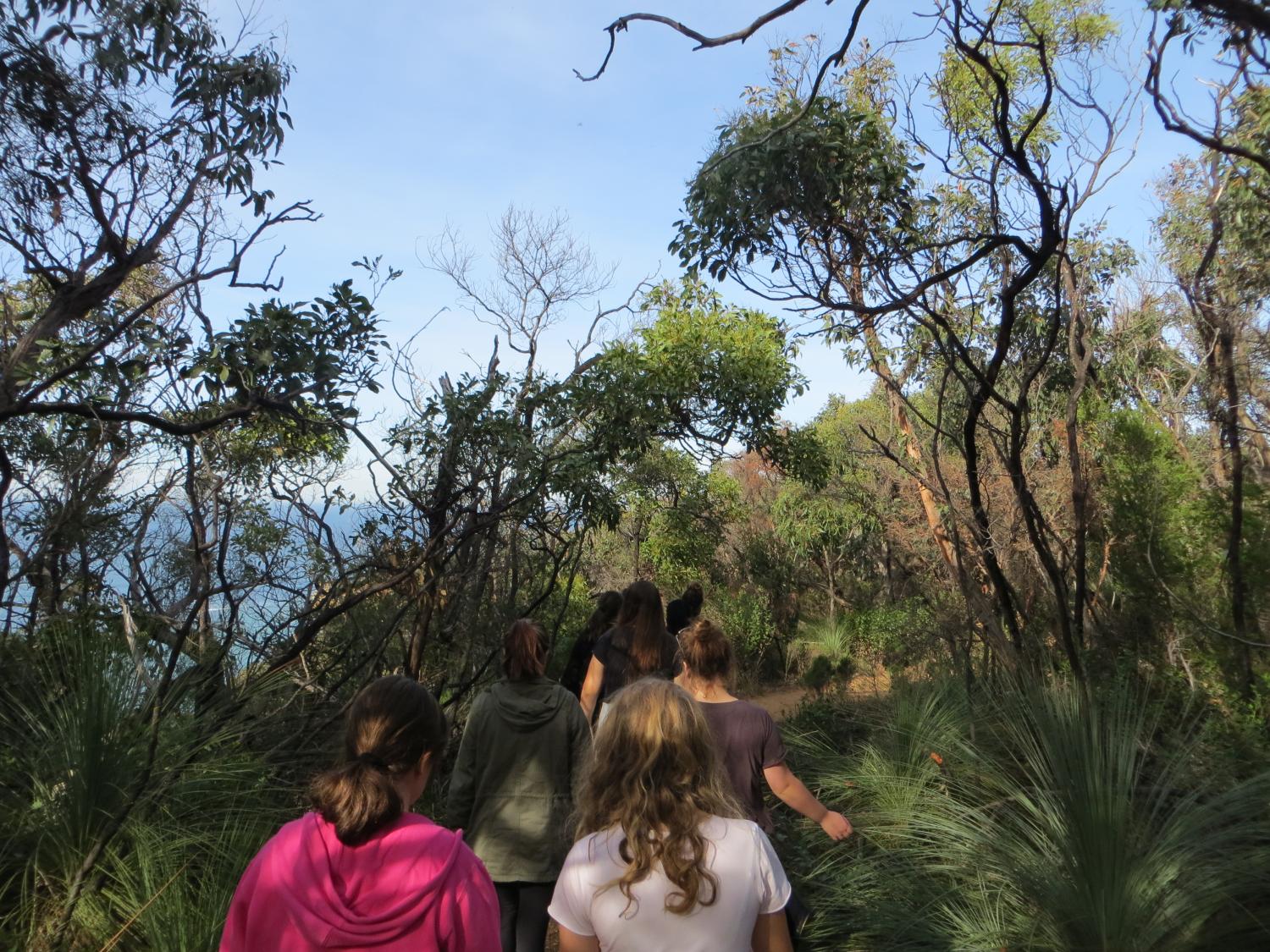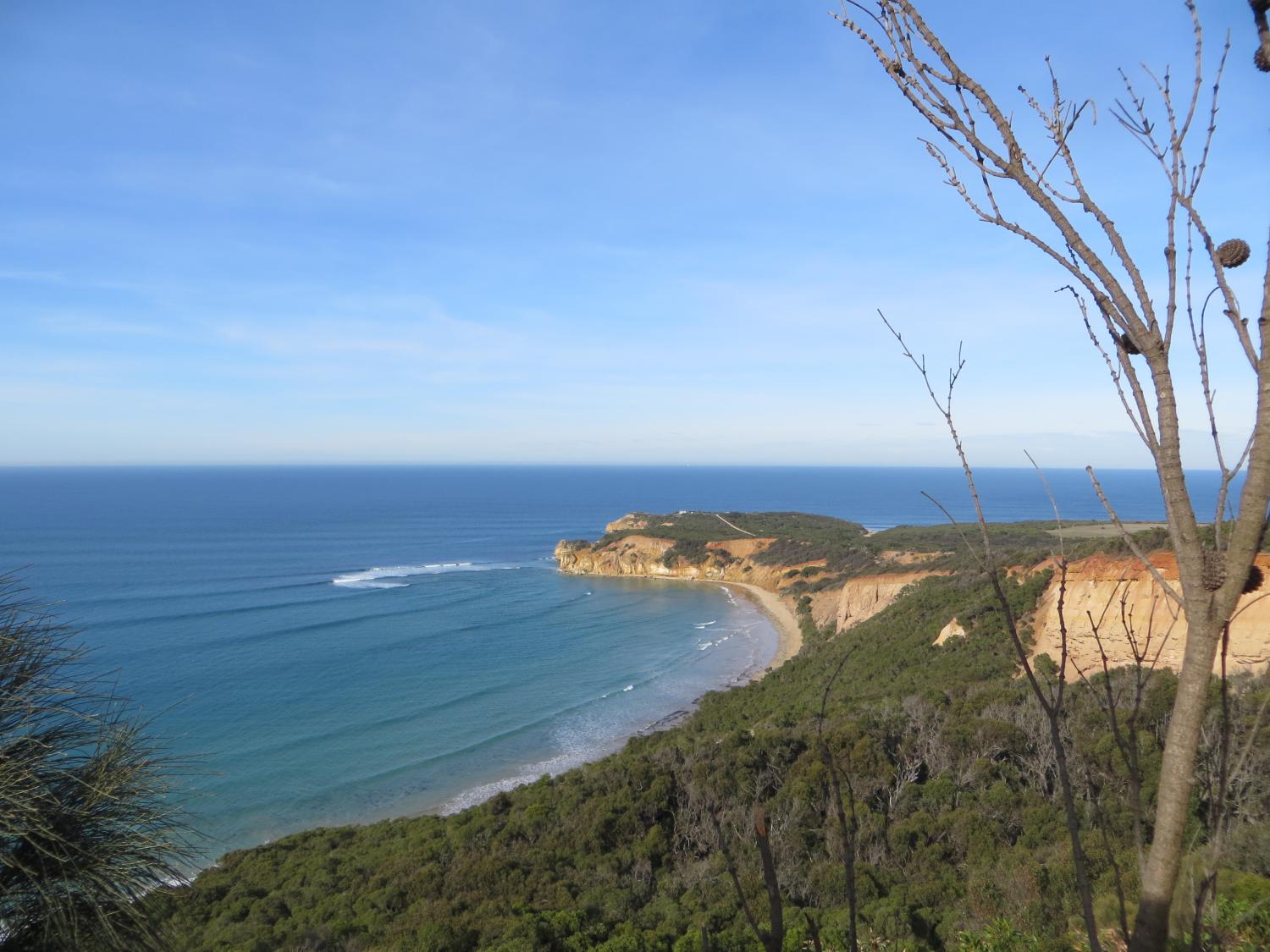 We offer everything from Bike Education including traffic through to the more experienced offroad adventures through lovely parts of Victoria.
Our sessions run from 2hrs - Multi day programs with all the equipment included.
Packaging up Rock Climbing and Mountain Biking in the You Yangs is really popular!
Mountain biking Locations
You Yangs

Surf Coast and Great Ocean Road

Great Otway National Park

Forrest Area

Bellarine Rail Trail

Old Beechy Rail Trail

School grounds or local park
You can even include mountain biking in a package with Rock Climbing, Surfing or Kayaking and you will receive a multi session discount!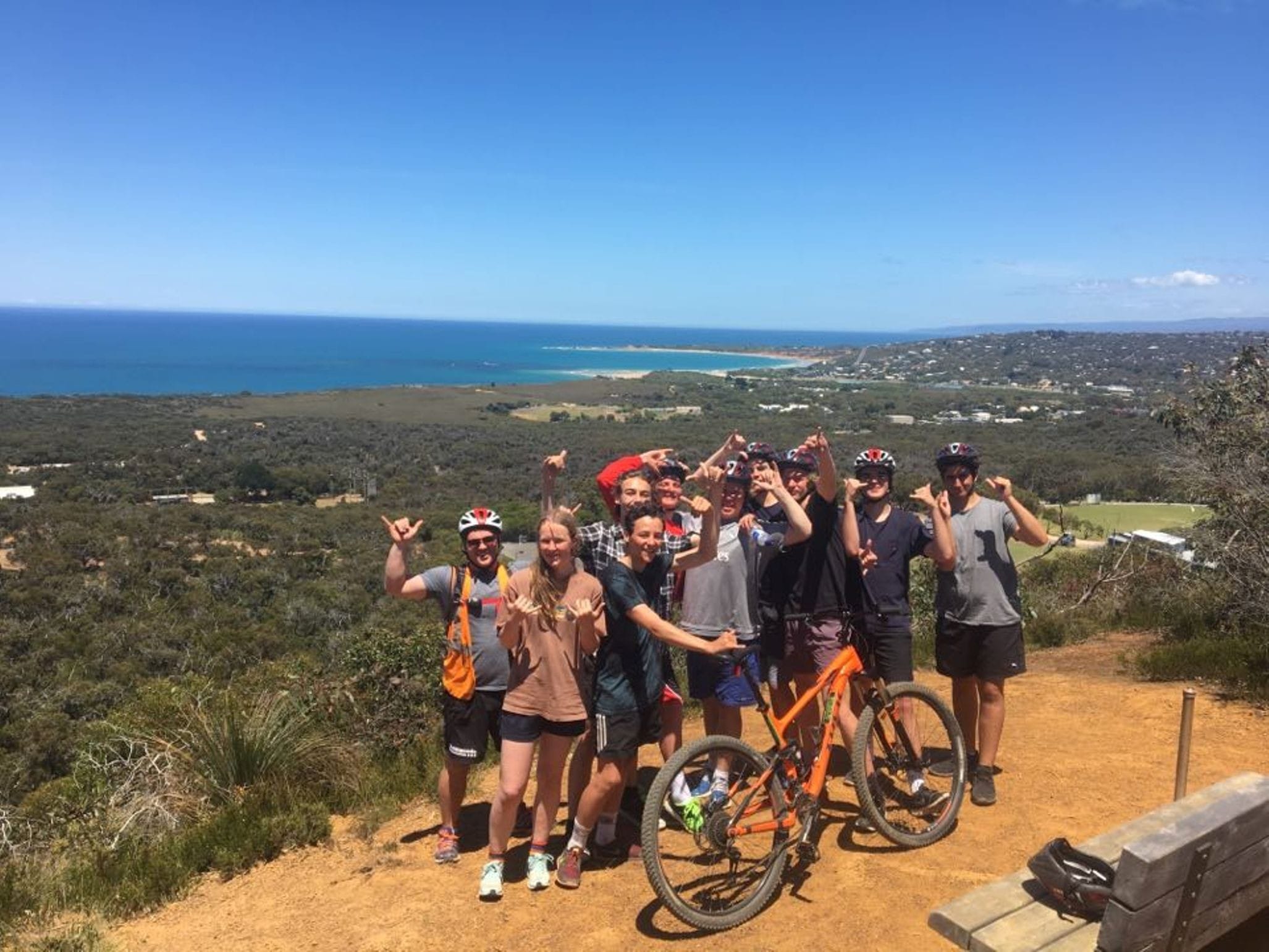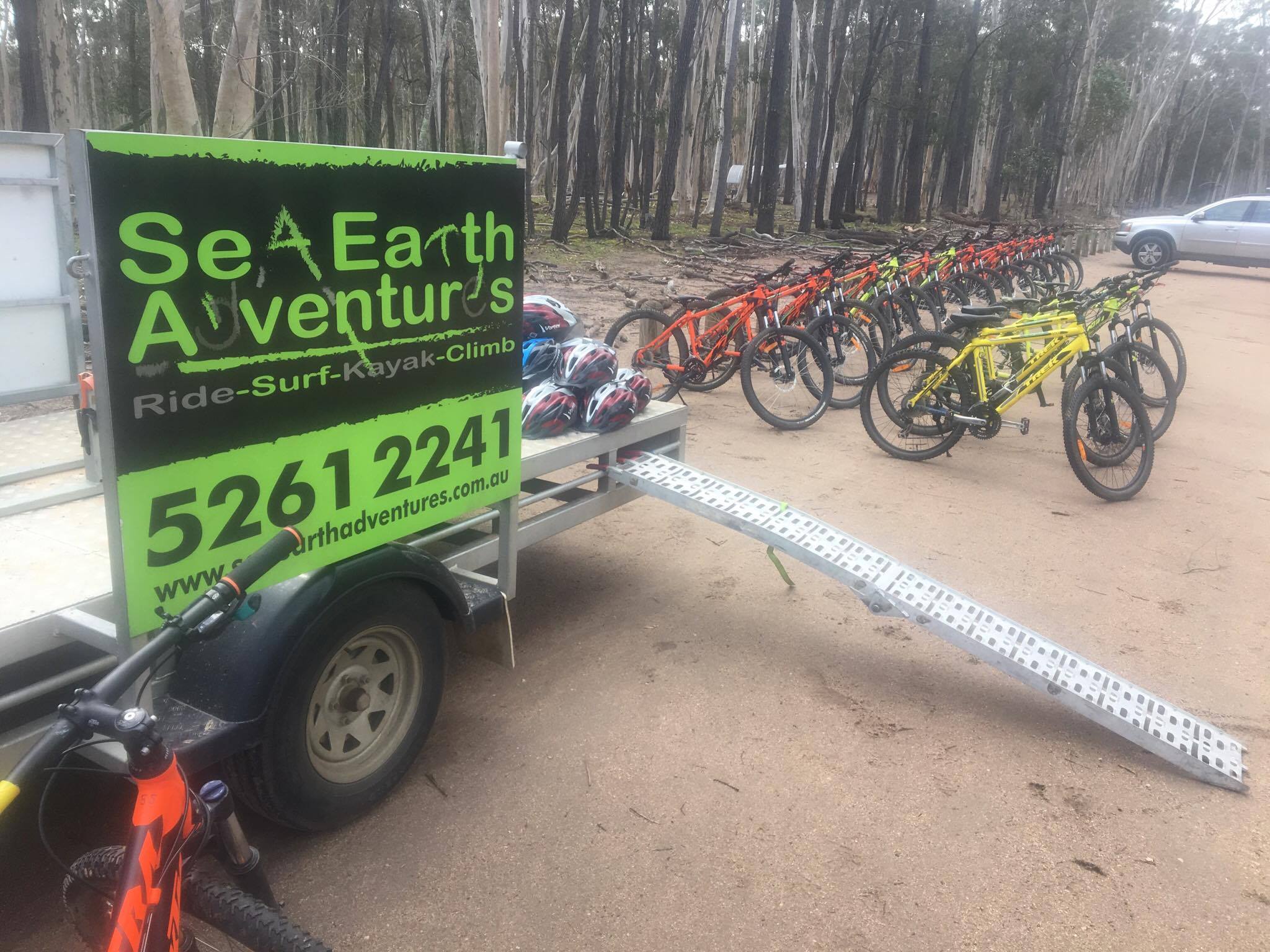 Rock Climbing and Abseiling
An ideal activity for team bonding and stepping outside your comfort zone. We operate at a range of climbing sites in the You Yangs, Staughtonvale, Werribee Gorge (Falcons Lookout) and the Grampians. Some of our sites include hiking and breathtaking views.
All equipment incuded.
We also offer multi day trips to the Grampians which can also include hiking, mountain biking and bouldering.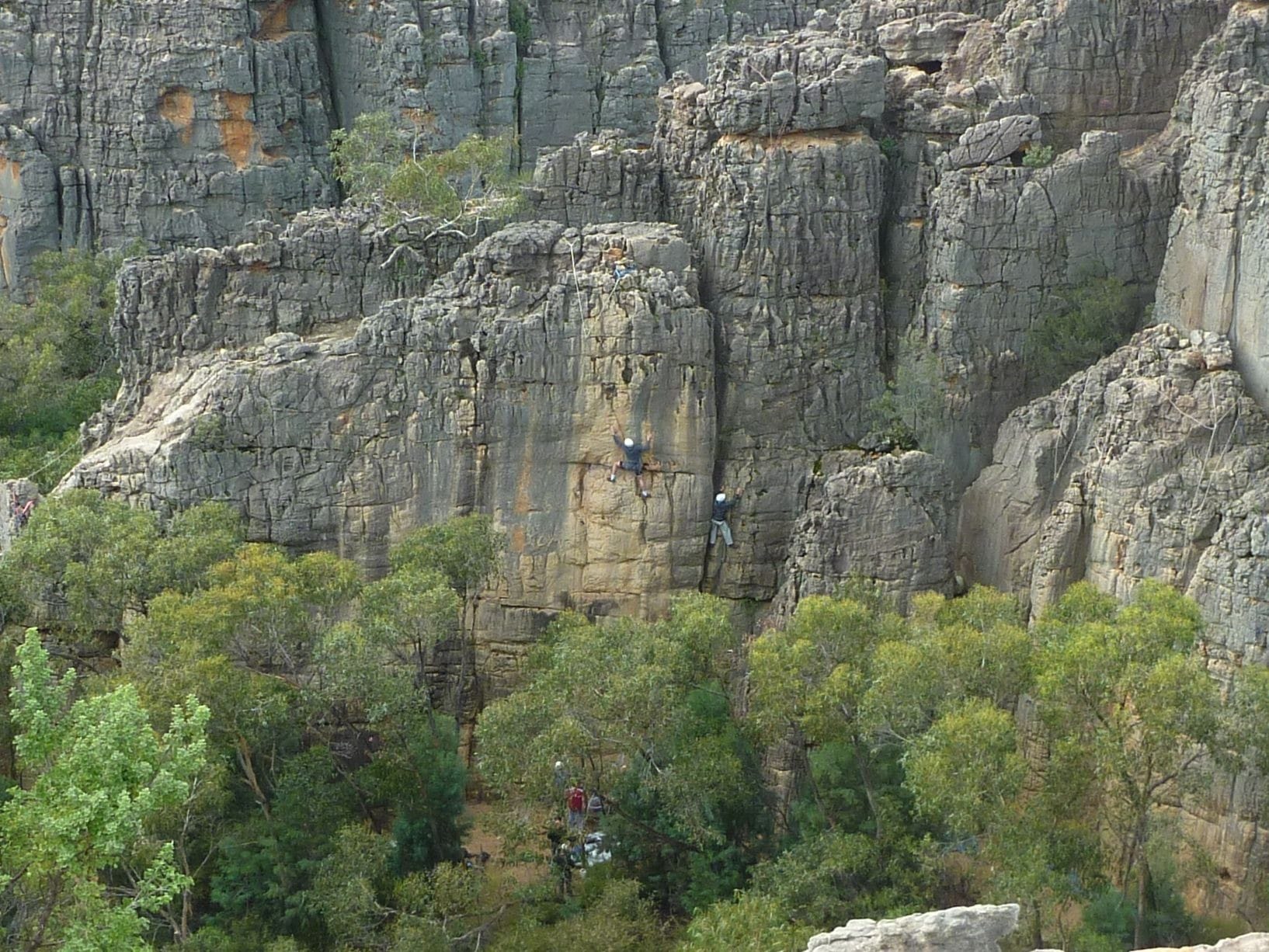 Team Challenges & Initiative Activities
Team Challenges & Initiative Activities
The team challenge consists of a range of activities to challenge students to use a variety of team skills. The skills will then be used in a final activity of raft building.
We can customise a range of team activities to suit your needs.
Our team activities are great for developing communication, trust, accoutability, teamwork and initiative as well as being great fun!
We can run sessions on the Barwon River at Barwon Heads, Torquay front beach, Spring Creek, Anglesea River or Painkalac Creek in Aireys Inlet.
We can also operate at your location or a park near by, all we need is a bit of space. This can also work in with school period rotations.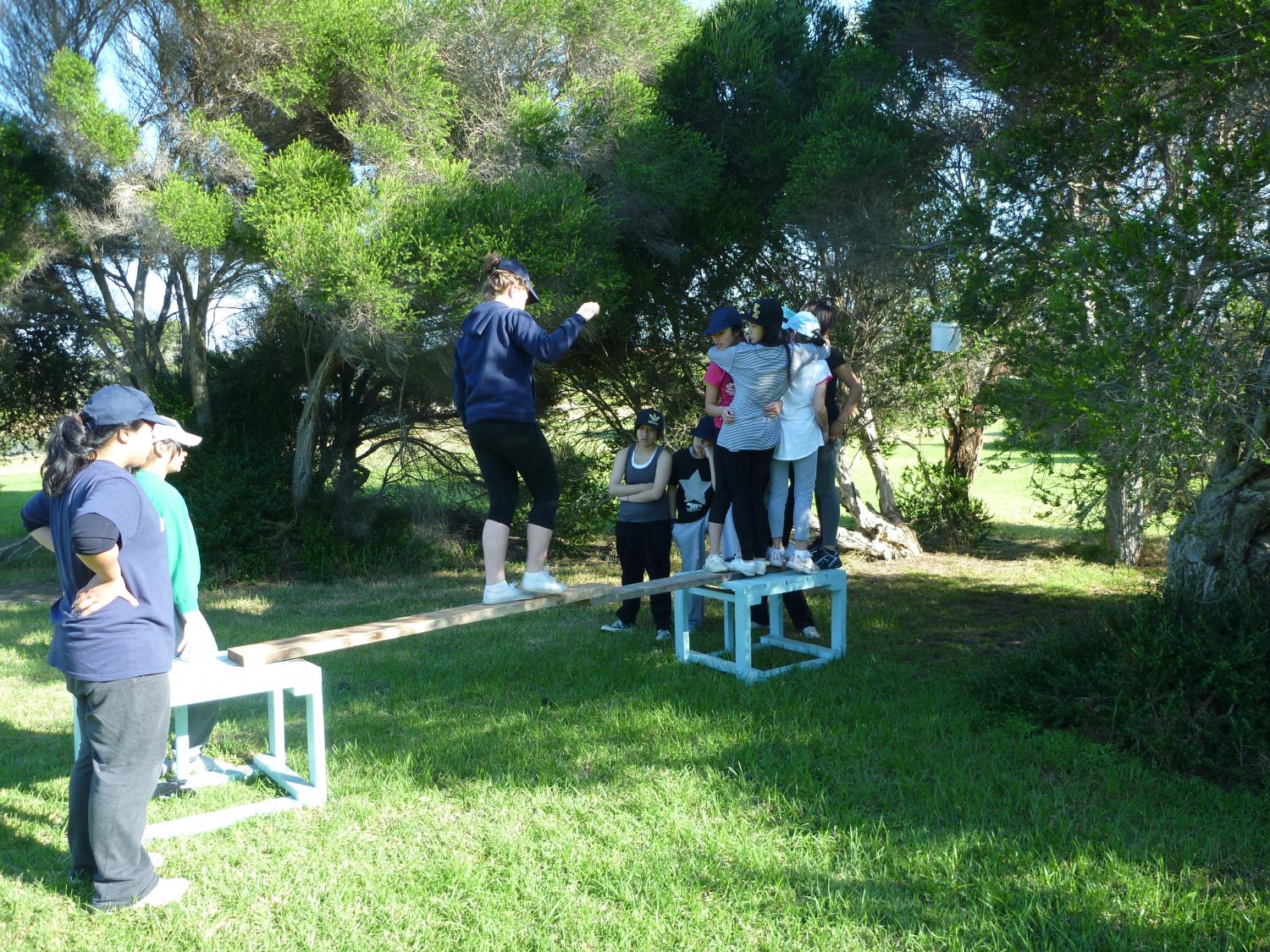 Surf Safety & Awareness Programs
These programs are ideal to learn more about the ocean. Our instructors have a high knowledge of surf conditions including everything from different types of rips and waves to how they are formed.. All instructors are fully qualified lifeguards with extensive knowledge of our locations. We can also offer a surf awareness program with surfing or body boarding included.
A fantastic activity for a surf camp. Everyone participates with the main emphasis on having FUN. Activities include beach flags, paddling, swimming and running races, iron person events, chariot races and more.
An excellent 'hands on' environmental activity to learn about rock platform marine life. We use a range of marine rock platforms, depending on where you are staying. These sites are teeming with living organisms and are ideal for this activity.
A fantastic low cost activity for younger groups which can also be modified for more senior year levels.
You can choose from a structured group rotation or keep it casual with a range of stations set up so the students can choose. The activity may include volley ball, cricket, wompa, frizza, sling shot ballooning and more! We can also include beach safety and minimal impact in a rotation.
This program can contain many different activities including beach games, swimming, initiative/team building, coastal walks, beach safety and rock pool rambles. We can cater for large to small groups based at a beach venue or inland at any park or you school grounds. We can focus on communication, problem solving and trust or it can just be a fun day out so everybody gets to bond and have a great time!
SeaEarth Adventures organises complete ski & snow packages, all you have to do is pack a be picked up!
This may include the following
Transport

Accommodation

Ski/Snowboard/gear hire

Lessons and passes

Guiding
We can also organise a range of team and initiative programs at the snow whilst enjoying the amazing Victorian Mountains.
There are a wide range of activities to choose from, we can also design something completely new that works best for you! Booking conditions are included with each program and client booking form.
We also offer large group and multi session discounts!
Please don't hesitate to email or call for a detailed info pack and prices.